A magnitude 7.5  earthquake occurred 15 km  south east of Hanmer Springs, New Zealand at Mon Nov 14 2016 12:02 AM (NZDT).A magnitude 6.6 earthquake hit near Hanmer Springs, and was widely felt in both the South and North Islands. Civil Defence warns a tsunami is possible on the eastern coasts of the South and North Island.
The police say one person has died in Kaikoura, where a house has collapsed in the earthquake.
Earlier, the fire service said they were searching the rubble of the Elms Homestead for a person reported missing. Another person had been found alive.
The police say they are also trying to get to a property at Mt Lyford, north of Christchurch, where a second person is believed to have died.
The Nelson Marlborough District Health Board says by early this morning five people had been admitted to Wairau Hospital with various injuries, some described as moderate.
Ongoing aftershocks being widely felt. Many are over 5-6.5 magnitude.
Multiple quakes have since followed in both islandsPower is out in several towns and cities .Authorities have struggled to get a clear idea about the damage from the first, 7.5 magnitude earthquake centred near Hanmer Springs.Wellington's Inter islander Ferry passenger bridge has been swept away. It was damaged in the quake. A ferry is stuck in Cook Strait with passengers sleeping on board, due to damage leaving it unable to dock in Picton
Here's the latest details from Civil Defence on the tsunami warning.The Ministry of Civil Defence & Emergency Management is advising New Zealand coastal communities that the tsunami warning has been downgraded to a marine and beach threat for a number of coastal areas of New Zealand. This follow's this morning's magnitude 7.5 earthquake (magnitude has been upgraded from a 6.6) located  near Hanmer Springs which occurred at 0002 hours on 14 November 2016.

There is a marine and beach threat for  the East Coast of New Zealand, from East Cape to Southland, and also the Kapiti Coast and Tasman Bay/Marlborough Sounds.

The Chatham Islands and the region between Blenheim and Banks Peninsula is still prone to a marine and land threat.

People in coastal areas should:
1. Stay off beaches
2. Stay out of the water (sea, rivers and estuaries, including boating activities)
3. Do not go sightseeing
4. Share this information with family, neighbours and friends
5. Listen to the radio and/or TV for updates
6. Follow instructions of your local Civil Defence authorities.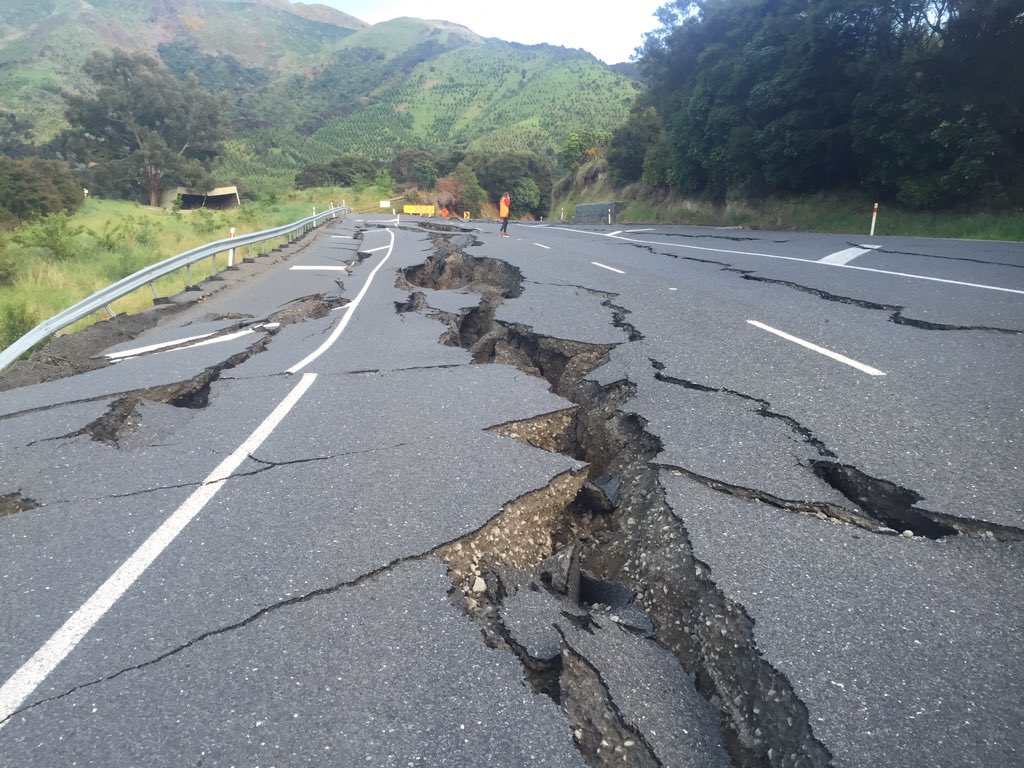 Wellington Civil Defence has strongly advised people not to come into work in the central city and Lower Hutt this morning. It said no trains will be running and there are no replacement bus services.
Civil Defence says if you're in a coastal area stay out of the water, off beaches, and listen to the radio or TV for updates.
If you're near the eastern coast of the south island, immediately move to high ground or inland as far as possible.
Take a getaway kit if possible, but don't travel into areas at risk to get the kit or belongings.
Take your pets with you if you can be done safely.
If evacuation maps are present, follow the routes shown. Walk or bike if possible and drive only if essential. If driving, keep going once you're well outside the evacuation zone to allow room for others behind you.
If a tsunami hits and you cannot escape the tsunami, go to an upper storey of a sturdy building or climb onto a roof or up a tree, or grab a floating object and hang on until help arrives. Boats are usually safer in water deeper than 20m than if they are on the shore. Move boats out to sea only if there is time and it is safe to do so.
important points
– A 7.5 quake has hit near Hanmer Springs in North Canterbury, and effects are reflected
– Do not go for fishing for next 32 hours
•
• St John receiving reports of injuries around Culverden and Kaikoura
• Power is out in many areas
– If you are in a low-lying coastal area anywhere up the eastern coast of the country get to higher grou

– If you have trouble calling 111, contact your local police station– The quake was widely felt throughout both the South and North Islands, and has caused severe damage in some places-